Reasons Why Should You Buy Soccer Tips From Sboexpert Tipsters
< Back to Blog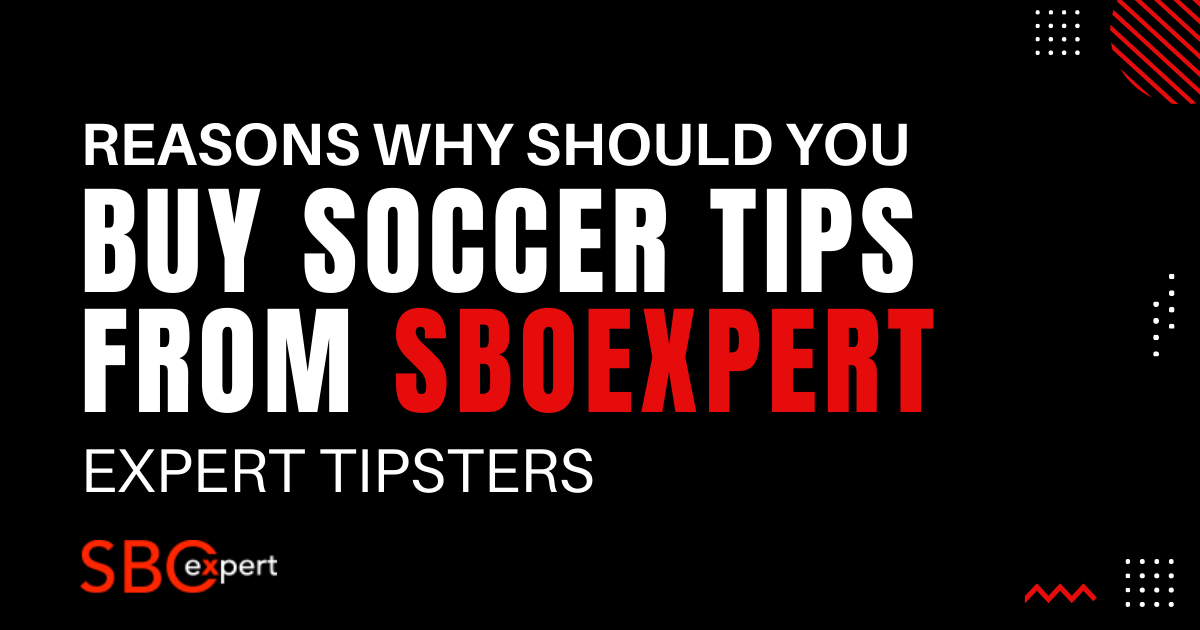 Reasons Why Should You Buy Soccer Tips From Sboexpert Tipsters
Date : May 05,2022
Categories :
Why Should You Buy Soccer Tips From Sboexpert Tipsters?
Punters can access free tips or paid tips, or both on SBOexpert. However, choosing which type of tip to use and when to use information comes down to each punter's goals, budget, and betting strategy. While free soccer tips are free, punters can't access specific preferred games and can't access particular leagues or betting markets. Moreover, the quality of free soccer tips is generally lower when compared to paid tips for most tipster services and platforms. Paid tips give punters several betting options, opportunities, and valuable betting situations when making soccer and football wagers.


Features Of Paid Tips On SBOexpert Tipsters
Some of the critical features of paid tips on SBOExpert tipsters include selecting the type of tipster, a higher hit rate, the choice of the advice, match, and betting market, access to premium betting content, access to punter performance and statistics, and ease of entry on the tipster platform.
1. Choice Of a Tipster
A punter can select the type of tipster they want when purchasing paid tips on SBOExpert tipsters. Punters can follow the directions, predictions, and analyses of tipsters of different levels on the platform. As soon as a punter releases a prediction or tip, a bettor can capitalize on that soccer prediction before other punters do so. The different types or levels of tipsters punters can select on the SBOExpert platform include junior tipsters, senior tipsters, bundle tipsters, and bundle tipsters. Every tipster's quality, cost, and coverage vary across different levels.
2. Higher Hit-Rates
Punters that buy soccer tips have a reasonable probability of increasing their hit rates and accuracy when making soccer wagers. As a punter moves from a junior paid tipster to a premium paid tipster, the costs incurred in obtaining soccer tips increase, but so does a punter's accuracy rate and potential to make a higher profit. Tipsters help give punters insights into different betting opportunities across multiple betting markets, enabling punters to get the best bang for their wager.
3. Choice Of a Tip, Match And Betting Market
Punters gain access to several soccer tips across multiple matches and betting markets. For context, punters gain access to 30-60 free leads every day, and over 200 paid dividends across different levels of tipsters. Punters can select soccer tips based on the tipster's story, the choice of the betting market, or the selection of the game across multiple football leagues. A punter can choose soccer tips on various companies such as the English Premier League, the Bundesliga, the World Cup, the Euros, the Champions League, and the FA Cup before making wagers in such leagues for the first time.
4. Access To Betting Content
Punters gain access to premium betting content, analysis, metrics, predictions, and statistics by experienced tipsters. A tipster's primary form of income relies on giving consistent and profitable soccer tips to punters. If a tipster is inconsistent, a punter may choose not to use that tipster when buying soccer tips. Access to premium betting content gives a punter a unique betting edge when making wagers against punters that make wagers without doing any research or investing in the soccer wager.
5. Access To Tipster Performance
Punters have access to tipster performances of all tipsters listed on SBOexpert. Access to tipster performance enables punters to select the best-performing, the most accurate, and the most reliable tipsters week-in and week-out. Some crucial metrics punters look for when choosing paid tipsters on SBOexpert include win rate, total predictions, loss rate, type of tipster, betting markets, past predictions, probability of success, and other football betting metrics. Punters can always use free soccer tips to gauge the accuracy or reliability before choosing paid tips once they're satisfied with the quality.
6. Ease Of Access
Punters can access SBOExpert tipsters easily online with a stable internet connection from most regions across the globe. Ease of access ensures that anyone who wants to access a tipster and make a soccer wager can use SBOexpert, where punters are connected to the right football tipster expert. A punter can use a mobile phone, a laptop, a desktop, or an iPad to access soccer tips and tipsters on the platform. Ease of access ensures punters save time, energy, and resources by making more efficient wagers.